Happy Friday! It's been a horrendous week. Too much to do and little time for writing or anything creative. What is your system on gearing up to write or cerate a work of art? Maybe it's sketching or freehand. I like a variety and it all depends. I write much more than working on art projects but easily switch hats as it comes. Try out some natural sounds with music. Dan Gibson is superb if you have not heard his music. I recall many Sunday nights when Hearts of Space would come on. Just great to listen to or write or create to.
Do you dabble in writing, journaling, creative writing, editing or any field of the arts? From painting, photography, drawing to graphic arts. My BA degree is in graphic communications. What programs do you use? This is the place to join to inspire and share expertise on a project, a technique that works for you that one may struggling with. Perhaps you are an aspiring writer or artist. Maybe you want to sell your artwork and need advice how to do so. Feel free to join us as creative minds work together. This place is for anyone who loves art and writing.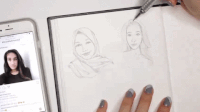 If this is your first visit with us, enjoy and look around. There are many stories to look at and we have a great bunch of good people happy in their creative worlds.
Take a nice diversion from your usual routine and try something new.