Chicken Pizzaiola
The Best Chicken Dish You've Never Heard Of...
Published on by ·Sip & Feast
Chicken Pizzaiola isn't as well known as the steak version, but let me tell you, it's amazing! The dish consists of well seasoned, pan-seared chicken, mushrooms, peppers, and garlic all in a delicious oregano heavy plum tomato sauce.
If you're looking to make a meal that is rich in flavor, and can be finished in about an hour, chicken pizzaiola is your dish. Chicken cutlets are lightly seared and then stewed until tender in a sauce made from sweet bell peppers, earthy mushrooms, garlic, oregano, tomato, and white wine. Topped with fresh basil, this dish is best served alongside pasta, but can also be used to make a mean chicken pizzaiola sub, hero, or sandwich.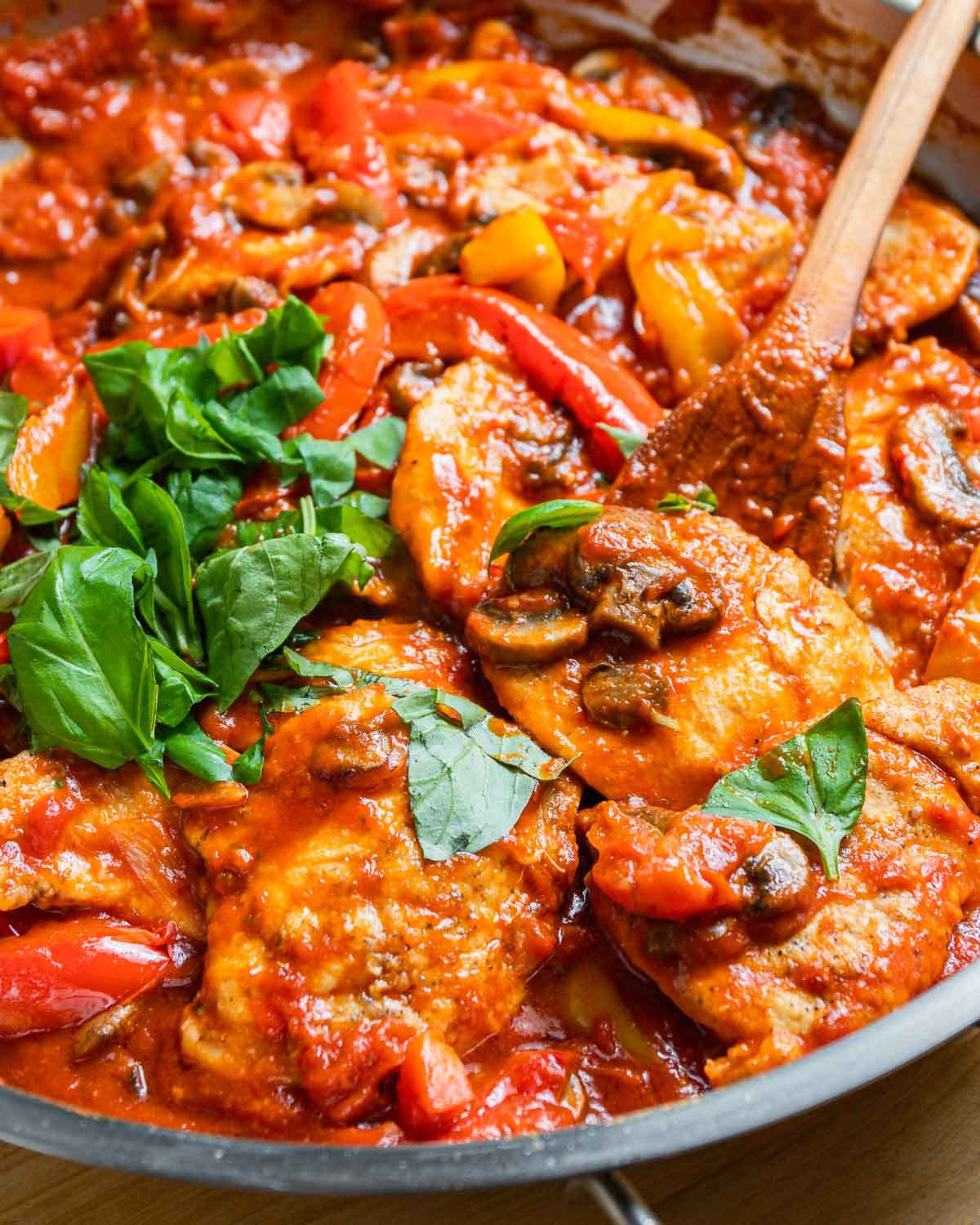 Ingredients
2

pounds

chicken cutlets

thin sliced and cut into 5" pieces

1

28 ounce

can San Marzano plum tomatoes

hand crushed or blender pulsed

3

ounces

tomato paste

½

cup

dry white wine

optional

1

cup

flour

for dredging, you will not use it all

1

pound

baby Bella mushrooms

sliced

2

large

red bell peppers

sliced

6

cloves

garlic

sliced

1 ½

teaspoons

dry oregano

plus more to taste

¼

cup

fresh basil

torn to finish

¼

cup

olive oil

3

tablespoon

extra virgin olive oil

for finishing
Instructions
Pound out the chicken (or use storebought thin sliced cutlets), cut into 5" pieces, and season with salt and pepper on both sides. Dredge the chicken in flour and shake off excess.

Heat a large pan to medium heat and wait 2 minutes. Once the pan is hot, add a couple of tablespoons of olive oil and sear the chicken on both sides (about 2 minutes per side). Work in batches. Use more olive oil as required. Set all the cooked chicken aside and tent with foil to keep warm.

Next, add in the mushrooms and cook until they release their water and brown (about 5-7 minutes). Place the mushrooms on a plate and set aside.

Next, add the peppers to the pan. Cook them until soft (about 10 minutes), then add in the garlic and cook for a few minutes more until the garlic turns lightly golden. If using the wine, add it now and cook the alcohol out for a few minutes. With a wooden spoon scrape any brown bits off the bottom of the pan.

Add in the tomato paste and cook for 5 minutes with the peppers and garlic stirring frequently. Add in the plum tomatoes, oregano, and mushrooms, and bring the sauce to a simmer. If the sauce is too thick add a bit of water (4-6 ounces or so) and stir together.

Taste test the sauce and adjust salt, pepper, and oregano to taste. When satisfied with the taste return the chicken to the pan and cook for a few more minutes to warm it through.

Turn off the heat and add in the basil and a hefty drizzle of high-quality extra virgin olive oil. Serve with crusty Italian bread to mop up the sauce. Enjoy!
Notes
Use thinly sliced cutlets and if possible pound the chicken flat to approximately a ¼ to ⅜" thick. Using chicken with a uniform thickness will allow a more even cooking process.

You do not need to use all of the flour. The flour is for dredging. Dredging means you coat the chicken on all sides with flour and shake off the excess.

Dried oregano, preferably Sicilian oregano makes the dish taste like a pizza sauce.

Dry white wines to use include Pinot Grigio, Sauvignon Blanc, or Chardonnay. The wine is optional.

Leftovers can be saved for up to 3 days and can be reheated in the microwave or on the stovetop on medium-low heat until warmed through.
for more instructions watch the video
Enjoy!
This page was posted by Sputnik One of the Sputniks Orbit blog
Please Recommend this page and follow us on: