Honey BBQ Chicken Wings
May 15, 2019 by Dedra, QueensleeAppetit
https://www.queensleeappetit.com/honey-bbq-chicken-wings/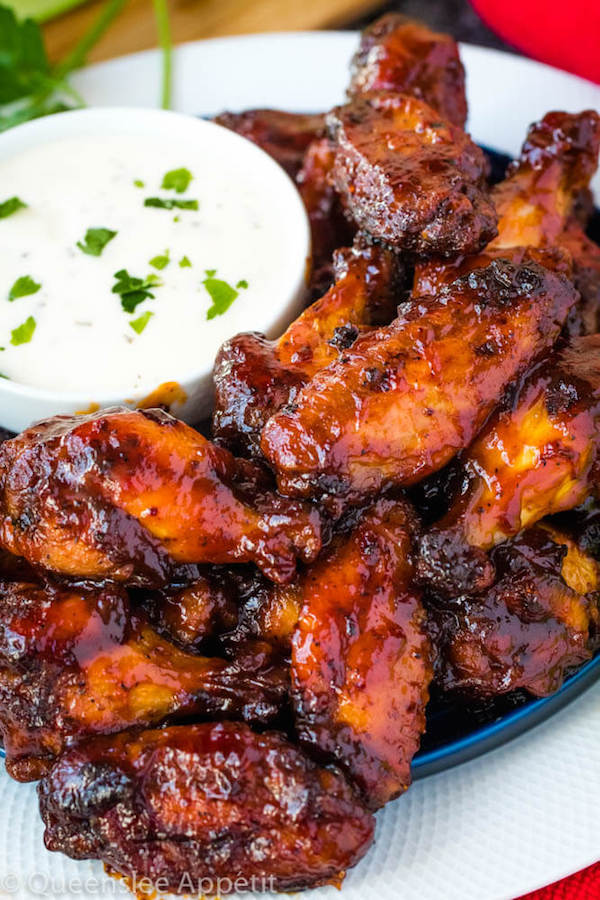 These Honey BBQ Chicken Wings are juicy, tender and flavourful. They're covered in a blend of spices, baked to a crisp and then tossed in the best Honey BBQ Sauce!
cook time:
1 HOUR
4 MINUTES,



total time:
1 HOUR
9 MINUTES
INGREDIENTS
TO WASH WINGS:
3 and ½ - 4 lbs. chicken wings, tips removed, drums and flats separated
Cold Water
Vinegar
1 lemon
SEASONING BLEND:
1 and ½ teaspoon salt
1 and ½ teaspoon freshly ground black pepper
1 and ½ teaspoon hot chilli powder
1 and ½ teaspoon smoked paprika
1 and ½ teaspoon garlic powder
HONEY BBQ SAUCE:
WASHING AND DRYING THE WINGS:
Place a wire rack on top of a parchment lined baking sheet. The rack and sheet should be close to the same size. Set aside.
Wash the chicken wings with equal parts of cold water and vinegar. Cut lemon in half and squeeze one half of the juice into the water/vinegar. Allow wings to soak for about 20-30 minutes, then drain the water

(Note 1)

.
Line the wet wings on the wire rack and place in the refrigerator uncovered to dry for about 1 hour or overnight. Flip the wings halfway through so both sides can dry evenly. If you don't have much time, you can go ahead and pat the wings dry with a clean paper towel.

(Note 2)

.
FOR THE CHICKEN WINGS:
Preheat oven to 425°F (220°C). Line a baking sheet with parchment paper or a silpat mat. If you have an oven proof rack that fits on top of your baking sheet, you can place that on top.
In a small bowl, combine the salt, black pepper, hot chilli powder, smoked paprika and garlic powder.
Place all the chicken in a medium bowl, then sprinkle on ⅓ of the seasoning blend.
Use a wooden spoon to toss the wings and coat the wings. Continue to sprinkle on more and more of the seasoning blend while tossing the wings until all the seasoning has been added

(Note 3)

.
Line all the wings onto the lined baking sheet, don't worry about them touching. Bake in preheated oven for 20 minutes. After 20 minutes, remove the wings and flip them to the other side. Return to oven and bake for another 25 minutes. While wings are baking, prepare the Honey BBQ Sauce.
FOR THE HONEY BBQ SAUCE:
Add the unsalted butter to a medium saucepan over medium heat. Heat until melted.
Once butter has melted, add the BBQ sauce, honey and ketchup. Stir to combine, then allow to come to a simmer.
As soon as the sauce begins to simmer, decrease the heat to low and allow the sauce to simmer, stirring occasionally, for about 10-15 minutes.
When the wings have finished baking, place them all into a large clean bowl. Pour the Honey BBQ Sauce over chicken, then use a clean wooden spoon to toss the wings until they're completely coated in the sauce.
If you used parchment paper, it may be pretty dirty by now so feel free to replace it with a fresh sheet of parchment.
Place coated wings back onto lined baking sheet then return to the oven and bake for another 7-8 minutes, until sauce is bubbling and has caramelized.
Remove from oven and allow wings to cool on baking sheet for about 5 minutes, then transfer to a serving platter. Enjoy!
NOTES
Watch the full YouTube video tutorial HERE!
I prefer drying my wings on a rack in the refrigerator rather than patting them dry with a paper towel, because not only can the paper towel leave behind bits of paper on the chicken, but leaving the wings uncovered in the refrigerator is supposed to help create a crispy skin on the chicken once they're baked.

The reason you wanna add the seasoning blend in portions is so that every inch of the wings are covered. So add some of the mix, toss, then add more seasoning blend where you see uncovered spots.

If there's any sauce remaining, store in a freezer safe ziplock bag and store in the freezer. I've noticed that this sauce does not freeze solid at all, so you won't have to thaw it out. Just pour back into a saucepan and reheat before using again.
enjoy
This page was posted by Sputnik One of the Sputniks Orbit blog
Please Recommend this page and follow us on:
https://disqus.com/home/forum/https-www-wordsandbrush-com/