Ring in November. A month when the first frosts or first snows grace the area. Our first hard freeze is Friday. Nature reveals more of her secrets and beauty. More the reason to gather and be closer to loved ones and be thankful for all the goodness and light and love in our life.
As it gets colder this morning, have a hot chocolate or coffee with us. A new week, a new day awaits.
Sunshine eludes us more as wintry clouds blot out the sun for a while as the land transforms into a wintry landscape. Fall and snows inspiring to us artists. When there is a snow, or ice event, I know artists will pack up their easels and head to the mountains in North GA to sit on the side of the overlooks or the waterfalls to paint the splendor. A painting or photo is worth a thousand words or more. The outside, creating art is their Church, being closer to nature almost one with her.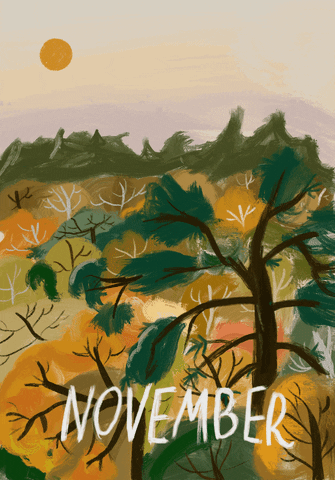 A certain warm cozy feeling settles in Lists and plans being made as travel might be on the horizon as Thanksgiving beacons on the horizon. Movies and childhood shows bring on the childlike nostalgia. Families bring in their children so we share their laughter and play, taking us away from everything going on.
Meaning of the Holidays nearing is Family, love and togetherness again after a long hard year. A wild ride for everyone, but great things, remember the great things and simplicity. Hold each other tight.
After the turkey, there's always time to nap it off before desert. Anyone for pumpkin or cherry pie?
Don't forget to smile at the camera and say "Cheese!"
Creativity continues on through the times of celebration. Planning the big meal, making lists, organizing has its way of reaching. Some know we are moving in the next four weeks. Down to the wire and looking at expanding my culinary skills of baking and making meals from scratch with a spacious kitchen.
After the day is done, the evening settles in, we settle into, grab a blanket for a nap to the crackling fire. Bellies full of a comforting meal, sugar cookies and pie, coffee with Kahlua or brandy to close out the night.